Charm, authenticity, and heritage sites within reach …
Antibes attracts visitors from around the world. A protected destination on the Riviera, Antibes is blessed with an excellent location between the sea and the mountains. Only 25 minutes from Nice International Airport, this charming city draws visitors with its wide range of activities.
The ROYAL ANTIBES is ideally situated facing the ocean and less than 10 minutes from the centre and the battlements or ramparts. It is the only 4-star hotel fortunate enough to occupy this unique location, allowing you to enjoy a gamut of activities.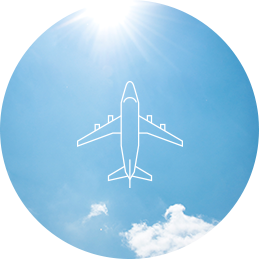 By Bus
The Antibes Bus Station in the centre city is a 10-minute walk from the hotel. The availability of several city bus lines facilitates low-cost travel.
Simply take the 14 bus and get off at the Maizière stop 80 metres from the hotel.
Envibus information
www.envibus.fr
GPS coordinates: latitude 43.574997/longitude 7.124258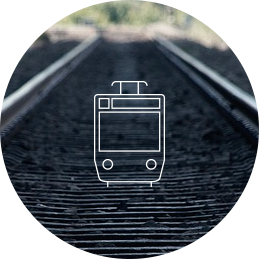 By Train
The Antibes TGV Station, with connections to all the larger European cities, is a 15-minute walk from the hotel. Thello trains offer daily direct connections between Antibes and Italy, with no train change at the border (www.thello.com).
The TER network takes you to most of the larger towns on the Côte d'Azur via a 20-30 minute train ride, going from Mandelieu-la-Napoule or Grasse to Ventimiglia, or from Marseille to Nice. A taxi rank is located immediately outside the Station exit. There is also a bus stop in the forecourt; simply take the 14 bus and get off at the Maizière stop 80 metres from the hotel.
SNCF Information (railway station)
www.voyages-sncf.com
www.ter.sncf.com/paca
Phone +33 (0)8 00 11 40 23
By road
The A8 highway network connects Antibes to Cannes, Nice, and Monaco, as well as to all the larger European cities. Other scenic arrivals may be arranged, such the seacoast route or from Cap d'Antibes.
To make things easier and safer, we suggest our underground car park with video surveillance. As there is space for 50 cars, advance reservations are not accepted. There's no hurry, you may wait decide on the day of arrival.
Rate: 20€/day. Free during the low season, from 1 November to 31 March, except for 28/12-3/01.
Should you wish to hire a car for your stay
Our reception team will be pleased to make reservations for you :
contact@royal-antibes.com or call +33 (0)4 83 61 91 91.